The list of exhibitors attending Wakefield 2016 currently includes the following companies and individuals. We're still adding names, though – so watch this space for updates!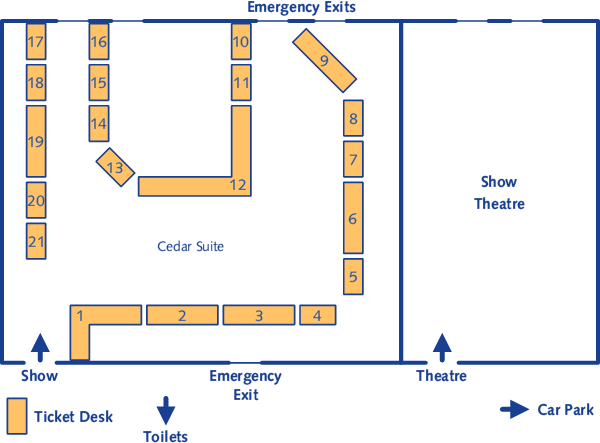 The floorplan and stand numbers are provisional, and still subject to change.
If you would like attend the event as an exhibitor, then please contact us for more information or to book your place – spaces are available on a first-come, first-served basis.
Stand 5
My stand is for ABug - The Acorn and BBC computer User Group. I'll have a BBC B and a Master 128 set up mainly for games or whatever people want to use them for. I'll also have some information on ABug and what happens at our user group meetings.
Stand 3
I intend to use my space to show off a restored Master 512 and a 128 running a fully working Acorn Winchester 130.
Not intending to sell anything , but might have a few small items I'd be willing to part with.
During the day myself and a couple of other 8-bitters plan to restore a fried Electron to working condition , so people may be interested in looking in on that.
I'll have other small peripheral devices in action as well.
I'll also be on the lookout for an Arc for sale to use as a level three server in the future , so where better than a RISC show.
Looking forward to seeing you all there.
Stand 17
AMCOG Games will be showcasing and, subject to beta testing, releasing a new title at the Wakefield show. This new game has been inspired by ‗Fervour‖ and is implemented using 3D vector graphics rather than traditional sprites. In addition, copies of our other two titles, Legends of Magic and Overlord will also be available to play or buy.
Stand 11
Stand 2
Over the years, our charity stall has raised some £17,000 for good causes. At Wakefield 2016 we will again be selling donated goods in aid of Wakefield Hospice, and we will also be accepting mobile phones on behalf of the Hospice.
Stand 16 (Show Theatre at 1.30pm)
4D & CJE Micro's in addition to their normal massive range of all things
RISC OS/Acorn they will have their latest RISC OS systems the Rapido-Ti and
Rapido-Ig 'In Stock'
The RapidO Ig (IGEPv5 based) now has full SATA support!
For users wanting a second display output(*) then the RapidO Ti (Titanium
based) is the one for them, otherwise the RapidO Ig offers a number of
advantages at a significantly lower price.
RapidO Ig: 725 GBP
RapidO Ti: 997 GBP
Delivery, if required: 12 GBP
For independent benchmarks please see Chris Hall's website:
http://www.svrsig.org/HowFast.htm
Whilst for processing speed there is little to choose between the RapidO Ig
and RapidO Ti, the RapidO Ig now has the fastest ever hard drive data
transfer rate for a RISC OS computer!
RiscPC: 1.8 MB/s
Iyonix: 23 MB/s
PandaBoard: 21.9 MB/s
ARMX6: 79.50 MB/s
Titanium: 119.3 MB/s
RapidO Ig: 181.1 MB/s
We've also averaged all the benchmarks listed by Chris Hall that give a
percentage speed comparison with a RiscPC, the results were:
RiscPC = 100%
ARMX6 = 1247%
Titanium = 2257%
RapidO Ig = 2365%
The RapidO Ig is now also available in a nice swish miniDTX case.
For more details please see our stand, contact us or see:
http://www.cjemicros.co.uk/RapidO
We will be updating our website with a fuller comparison chart and easier
ordering once we've recovered from the show.
(*)The second display output is currently functional but not fully-featured
or integrated as yet.
The RapidO Ig is sold by The Fourth Dimension which is not VAT registered
The RapidO Ti is sold by CJE Micro's whose prices include VAT
Stand 8
I will be exhibiting an Econet network based around an MDFS file server.
Visitors will be able to play all of the commercial RetroSoftware titles as
well as some brand new old games, play Cave (the Econet MUD), Arena II and
(hopefully!) Mugins. I will have a machine with a De0-Nano running as a
32016 coprocessor with Panos across the Econet. I'll also be trying to
bring another MDFS back from the dead over the course of the day.
Stand 13
Drag 'N Drop will be at the Wakefield show from 12 noon onwards with the latest edition of the magazine. Come and see a Pi Top in action (a Raspberry Pi-powered laptop running RISC OS) and browse and buy from our stocks of "The Book of Draw Stuff" (reprinted March 2016) as well as USB memory sticks (flash drives) containing all the back issues, type-in programs and bonus files. All at special show prices.
Stand 7
Stand 18
I will be showing Release 4 or a Pre-Release of Release 4 of Impression-X,
which is intended to incorporate all of the 5.13 Publisher Plus changes, as
well as some other bug fixes.
Stand 21 (Show Theatre at 3.00pm)
MW Software will demonstrate and sell ArtWorks, the platform's most
powerful graphics illustration package, the EasiWriter/TechWriter
family of structured word processors, the Gutenprint high quality
inkjet printer drivers and the PostScript 3 printer driver.
Stand 20
Stand 10
Orpheus will be at the 2016 show where we will be available to discuss any and all needs relating to providing broadband/internet access. Also our website and domain services. We now can provide/advise on remote service contracts, backup locally and securely over the internet to our own servers. We look forward to chatting to you at the show and also offering our bowl of sweets for you to dip into as you pass.
Stand 9 (Show Theatre at 11.15am)
R-Comp will be showing its latest range of software including the newly-released Fireworkz Pro 2, NetFetch 4 and a new edition of DP Genealogy. There will also be DeleGate system protection, plus favourites such as Messenger Pro email, and SafeStore2 backup.
Stand 9
If you're in the market for a new RISC OS computer, you'll want to visit the R-Comp Interactive stand. You'll see the hugely successful ARMX6 machines driving high resolution (up to 4k) screens, as well as the newly released TiMachine powerhouses. Not to mention, our RISCube/RISCbook range have long been best-sellers. Which is right for you? Come and find out!
Stand 6
A range of new, enhanced, products for the Acorn range of computers.
Speciality repairs for the Electron and its Peripherals.
A range of semiconductors for Acorn machines.
Stand 4
Retrosoftware stand I'll be demonstrating games that people have written for the BBC and Electron over the last few years. Particular emphasis will be on several fantastic arcade conversions by Tricky. Tricky specialises in pushing the BBC hardware to it's limits to display lots of sprites that are all smoothly animated at 50 frames per second. These conversions easily surpass the quality of the equivalent games that were commercially available for the BBC back in the 80s. Other games will include two Electron titles: Jungle Journey and Castle Raider by David Boddie. I'll also be showing two games I've written, as well as a work-in-progress demo of a Master only game that's currently in development. Take a look at the forums at retrosoftware.co.uk to see what we retro coders are up to!
Stand 14 (Show Theatre at 12.00pm)
Stand 19 (Show Theatre at 2.15pm)
A new version of RiscOSM, the vector map software based on Open Street
Map will be released at the show. Highlights include animation of GPX
tracks, CSV import and export, and changes to make it easier to use
the software on computers with limited application space (e.g. RISC OS
4 and 6).
A wide range of freshly-converted map data will be available for
purchase on SD card.
We will also be launching a new version of ImpEmail, the mail-merging
email software. As well as supporting Impulse-based mail merge from
Impact and Powerbase, ImpEmail now includes mail-merge from CSV files.
Stand 12
For Raspberry Pi owners, Soft Rock Software will be selling a
RiscPC-inspired case, and - hopefully - for those who like to play computer
games, there may be a new version of an old budget title.
Stand 15
Stand 1
Come to the stand and join the club that runs the Wakefield Show, we are now international with members in Canada and italy and well as all over the UK.
Pick up the latest edition of the newsletter CD for 10 ukp for non-members and 7.50 ukp for members or join and the club and get the CD at 7.50.
The popular networking guides will also be available to order at the show.
Don't forget the prize draw is also taking place on the club stand with two possible prizes.
Page updated 12 April 2016 | Contact us