The list of exhibitors attending Wakefield 2013 currently includes the following companies and individuals. We're still adding names, though – so watch this space for updates!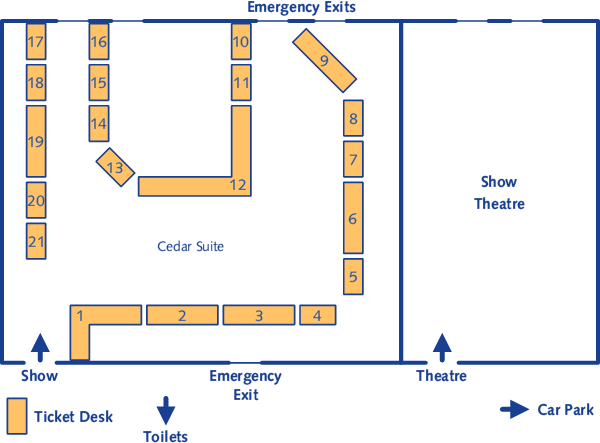 The floorplan and stand numbers are provisional, and still subject to change.
If you would like attend the event as an exhibitor, then please contact us for more information or to book your place – spaces are available on a first-come, first-served basis.
Stand 7
Aemulor has provided 26-bit compatibility to allow the extensive back-catalogue of older RISC OS software to function on more recent ARM hardware including IYONIX pc, A9home, Beagleboard, PandaBoard and ARMini for many years. We are now pleased to announce the latest addition to the Aemulor family: Aemulor Pi for RISC OS running on the Raspberry Pi hardware.
We will have demonstration system on the stand showing the latest Raspberry Pi model B hardware running some of the popular 26-bit software under Aemulor Pi.
Stand 17
The subscription magazine for RISC OS users.
Stand 4
I'm Ian Wolstenholme and I run the website BeebMaster, which is celebrating 10 years online in 2013, although I've been Beebing since 1991! I bought my first BBC Model B – which turned out to be a bit of a curious variant – at that time, after using BBCs and Masters in the computer room at School. Following a wilderness period which began in the mid-1990s, I immersed myself for a second time in the Acorn world: I was given a misbehaving "16K" Model B and I bought a second-hand Master 128 at Easter 2001.
From then on, I've been building a collection of all things Acorn, and I've been able to get my hands on some of those pieces of hardware that I couldn't afford as a schoolkid! I've also got myself into areas that I didn't even know about in the nineties. My collection is very varied, but there are 4 themes – Winchester Discs, Teletext, Domesday and Econet.
I've been so fascinated by Econet ever since I first used a Beeb in the early 1990s that I started supplying Econet kits and even had a run of Econet Modules and Econet Clocks manufactured to my own specification. To celebrate my BeebBirthday, I wanted to go right back to my beginnings. I don't still have my original Beeb, so I've assembled a replica of that very first BBC Micro system from the early nineties, trying my very best to reproduce what I owned back then as closely as possible. It's rather special as it isn't your standard Model B. I'm bringing it to Wakefield, so I'll be able to show you what I mean.
When I started BeebMaster in 2003, the only PC I had was an Olivetti Laptop which I had bought in 1996 whilst at University – well, an Olivetti is nearly an Acorn, isn't it! For the first six months online, my little Olivetti connected to a 56K modem was how I kept the site updated.
Each item in my collection tells a story of its own – I've chosen a selection of items which have personal significance to me in the development of the BeebMaster site and my collection.
Please look in at the BeebMaster stand to find out what makes me tick! Maybe then you can explain it to me! You'll be able to see:
the Olivetti laptop which was so important in the early development of the site: you might even be able to help me get it working again!
my first ever BBC Micro Winchester Disc: you might even be able to help me get it working again!
my first ever Second Processor, in its own unique casing!
the working prototypes of the BeebMaster Econet Clock and BeebMaster Econet Modules
the original prototypes of the Econet Module hand-made at Acorn in 1985 during the development of the BBC Master.
BeebMaster's sister site, the BeebShop, sells spares and upgrades for the BBC Micro lover – especially if you want an Econet – and I'll be coming along with a swagbag full of BeebShop items at special discount Wakefield Show prices!
Stand 2
The stall is run by the Wakefield RISC OS Computer Club, with the proceeds going to the Wakefield Hospice. Please do help us in this worthwhile cause – come and have a browse for a bargain, or donate your unwanted goods on the day. We also collect old mobile phones and printer ink cartridges for the Hospice to recycle. For further details please see the separate Charity Stall page.
Stand 18 (Show Theatre at 2.30pm)
The world's largest range of Pandaboard and Raspberry Pi systems and accessories will be on the CJE/4D stand at Wakefield.
We will also have many other RISC OS related hardware and software items including screws and backplates for Pandaboard, Raspberry Pi and RiscPC, mice, keyboards, monitors, WiFi adaptors... and much, much more.
Stand 13
I'm Chris Dewhurst, editor of Drag 'N Drop. I've been using Acorn and RISC OS machines as far back as I can remember! Drag 'N Drop is a quarterly magazine for users of RISC OS on the Raspberry Pi and Beagleboard. Written in a popular style, we feature articles on programming in Basic and machine code, games, tutorials, using applications in RISC OS and occasionally articles the BBC and Electron. We are well into our fourth volume and at the show we are offering all issues so far for £10.00. Drag 'N Drop is usually £3.00 per issue so with 15 issues for a tenner that's less than 70p per magazine!
In the latest issue we continue our tutorials on using PMS (music scribe), sprites programming, understanding 256 colour modes, plus a brand new beginners series on using Fireworkz, the free word processor/spreadsheet package for RISC OS.
Also at the show we will have the long-awaited "55 BBC Micro Books" CD-ROM: an astonishing collection of digitally remastered programming books in PDF and HTML format, all for £10.00. BBC Basic runs many many times faster on modern machines, so whether you have a Pi, and/or you still have a BBC, this disc is for you!
Copies of both CD-ROMs will be on demonstration so you can "try before you buy". I look forward to seeing you!
Stand 6 (Show Theatre at 3.20pm)
Pi enthusiasts from the Leeds area will be showing off ShrimpBot, a simple low cost robot that can be built from a kit of parts, and also demonstrating a six-wheeled toy which has an interesting application.
They will have various useful electronic components for sale, and visitors are welcome to come to the stand to discuss any technical issues they may have.
Stand 5
I'll be demonstrating the latest USB Econet NIC allowing modern USB equipped computers to connect to legacy Acorn Econet networks. A small quantity of these should be on sale. SoftMDFS (by J.G.Harston) will also be shown running on a Raspberry Pi serving files onto the show Econet.
Also at the show will be a EPROM erasing/programming facility, and general diagnosis and repair station.
Stand 19 (Show Theatre at 11.00am)
MW Software will demonstrate and sell ArtWorks, the platform's most powerful graphics illustration package, the EasiWriter/TechWriter family of structured word processors, the Gutenprint high quality inkjet printer drivers and the PostScript 3 printer driver.
Stand 15
We will be releasing NetSurf 3.0, and demonstrating it on our stand. All our core developers will be on-hand to answer queries, show off the latest progress, and discuss future plans. Users may like to support the project by purchasing our limited-edition NetSurf 3.0 CDs.
Aside from the NetSurf 3.0 release, the big news is that work on JavaScript support has started. Early JavaScript enabled test builds have been available from our website for several months. Please drop by to see what's new!
Stand 12
Organizer 2 is the personal information manager for all RISC OS platforms.
Stand 10
For this year 2013 all our FTTC products now come with a maximum service speed of 80Mbps download and 20Mbps upload (depending on line length etc.). The free downloads between 11pm and 9am are continuing on all our services. On the domain and web hosting side, we have a new server which provides a control panel interface for our customers, to help them with administration of the domain. This also provides a different and modern web access to e-mails on the associated domains on the new server. Both ADSL and Fibre routers/modems/switches are available from us preconfigured to save you the stress of setting things up.
Stand 9 (Show Theatre at 1.15pm)
We will be demonstrating our range of ARMini, ARMiniX, RISCube and RISCBook computers with latest offers (including special deals on original ARMinis) – if you wish to take advantage of show deals, but collect at the show, please contact us a week or two ahead of time, and we'll have your computer built ready for collection. With no extra shipping, this is the best way to grab a bargain!
We'll also be showing our range of software, including our the latest version of our MusicMan 2 software, and updates of several favourites including SafeStore backup software, Fireworkz Pro and Messenger Pro 7 email.
We also hope to have some big announcements if things come together in time!
Stand 3
Retro Software is both:
a community dedicated to encouraging and supporting the development of brand new games for 'retro' computing platforms.
a publishing label for Acorn micros – namely the BBC Microcomputer range, the Acorn Electron, the Acorn Atom, the Acorn Archimedes and the Acorn RiscPC.
Stand 14 (Show Theatre at 11.45am)
RISC OS Open will be demonstrating the latest developments in RISC OS, including the Raspberry Pi and Pandaboard, as well as giving updates on various other new and interesting projects in the community.
Stand 11
Vince Hudd of Soft Rock Software will be talking about and demonstrating WebChange and a few other goodies running under RISC OS on a Raspberry Pi.
Stand 16
Stand 8
We will be demonstrating the RISC OS multimedia experience running on the newest and fastest native hardware.
Stand 1
Formed thirty years ago as the Wakefield BBC Micro User Group in April 1983, the Wakefield RISC OS Computer Club is one of the longest running RISC OS user groups, and has members both local and spread over the UK. Membership costs just £7.50 for the first year (i.e. 50% discount) and gives free entry to meetings, a monthly newsletter in PDF format (or colour printed and posted for £7/year supplement), email discussion forum, and a members' area of the website with additional meeting resources.
This year's show sees the launch of the Wakefield Back Catalogue 3rd Edition: an archive of WROCC newsletters in PDF format stretching back to the very first one from 1983, plus a slideshow of the 2008 show and a video of the 1998 show. This valuable collection of Acorn and RISC OS history on CD can be yours for just £10, or £7.50 to members, including those who join on the day! We will also be selling copies of our ever-popular Networking Guides.
There will also be a chance to win a brand new Raspberry Pi computer (Model B) – and clear case – in the Prize Draw. Entry will cost £1 at the club stand, and is limited to one entry per person (Terms & Conditions apply).
Please visit our stand to see what WROCC can do for you!
Page updated 14 April 2013 | Contact us