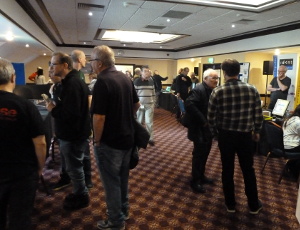 Saturday, 24th April 2021
Join in online from
10.00am
, entry
free
Presentations from
10.30am
to
6.00pm
featuring big names and small developers from the RISC OS community
Join in the discussion and Q&A on Zoom
Stay to chat after the last presentation
it's not quite the hotel bar, but it will be socially-distanced!
Wakefield in lockdown
Due to the ongoing coronavirus (COVID-19) pandemic, Wakefield 2021 has moved online.
We're still watching the situation closely to see when we can welcome Acorn &amp RISC OS users back to Yorkshire, and will publish a new date for a physical show as soon as we can.
Latest news
24 April
–
We're getting reports of people having problems with the live stream on Facebook, although it's not showing any issues at our end. If you're not watching on Zoom, it might be safest to watch on our YouTube channel.
22 April
–
We've had some issues sending out the Zoom details for Saturday, but they should finally be getting mailed out over the course of this morning. If you haven't received yours by Friday lunchtime, let us know and we'll investigate.
18 April
–
Find out what the exhibitors will be talking about during their presentations, and what new products might be on display on Saturday!
17 April
–
RISCOSbits and the Cloverleaf Project have swapped their respective theatre slots at the end of the afternoon.
12 April
–
To give their proprietor more flexibility, we've merged the RISC OS Developments and R-Comp presentations into a bumper two hour slot – it doesn't change the schedule, but means that the break may not be at exactly 12.30pm.
11 April
–
Visitors to the show will now be able to watch the talks via a Facebook live-stream, in addition to the YouTube and Zoom options already announced.
8 April
–
The RISC OS Cloverleaf Project are confirmed for the 5.30pm presentation slot.
8 April
–
Remember to register for the meeting details if you wish to attend Wakefield 2021 using Zoom. Simply email zoom@wakefieldshow.org.uk and we'll send them to you.
22 March
–
We're pleased to announce the first details of the presentations for Wakefield 2021, but keep an eye on the site over the coming weeks for updates.
22 March
–
Help us promote Wakefield 2021 by adding one of the new show banners to your website!
22 March
–
WROCC are pleased to announce that Wakefield 2021 will consist of a series of online presentations from players in the RISC OS market. Check the site for more details!
17 January
–
We're pleased to launch the site for Wakefield 2021. We'll be back in some form this year – watch this space for more details!