25 Years of The North's Premier RISC OS Show
RISC OS Awards' best show or event for 2018 and 2017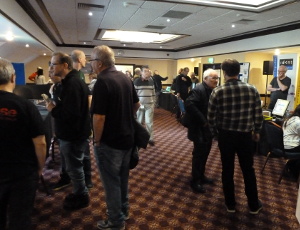 We've moved to Bradford!
Due to the refurbishment of our usual home in Wakefied, Wakefield 2022 has moved to the Cedar Court Hotel in Bradford. For more details of the location, see the travel pages. All of the other details for the event remain the same – see you on 21st May!
The Cedar Court Hotel, Bradford
Mayo Avenue, Rooley Lane, Bradford
West Yorkshire BD5 8HW
(Adjacent to the terminus of the M606, just off the Bradford Ring Road)
Saturday, 21st May 2022
Tickets will cost
£2
on the door. Entry for children aged 12 or under (accompanied by an adult) is
free
.
Latest news
28 April
–
Updated the Charity page on what we can now accept.
26 April
–
There will be 5 talks/presentations at the show in the show theatre
21 April
–
The list of exhibitors has now been updated to reflect all the known exhibitors at this time.
24 March
–
We have added details of local bus services from Bradford Interchange (adjacent to the railway station) to outside the venue – see the travel page for more information.
23 March
–
We're pleased to be able to confirm that Wakefield 2022 will be going ahead on 21st May as planned, but at the Cedar Court Hotel, Bradford instead of its usual venue. You can find more details elsewhere on this site, and we hope that you'll be able to join us on the day!
13 March
–
We have just learned from our venue that their refurbishment continues to overrun and, as a result, we are currently in discussions with them as to whether the 2022 event can go ahead as planned. Please keep an eye on this website and the RISC OS news sites for further updates as soon as they are available.
22 December
–
Due to our venue's refurbishment overrunning, we have had to reschedule the 2022 event from 23rd April to 21st May. We apologise for any inconvenience this causes, but hope that all of those wishing to attend will still be able to make this later date.
7 August
–
We're pleased to launch the website for Wakefield 2022 – watch this space for more details of the North's premier RISC OS event!