Venue
We're still in Bradford!
Due to the continued lack of availability of our usual home in Wakefield, Wakefield 2024 will once again be at the Cedar Court Hotel in Bradford – the same venue as the 2022 and 2023 events. For details of how to find the venue, see the travel information.
Wakefield 2024 will be held in the Cedar Court Hotel Bradford instead of its usual home.
The hotel is located beside the A6177 Bradford Ring Road, at the terminus junction of the M606. The full address is
The Cedar Court Hotel, Bradford
Mayo Avenue
Rooley Lane
Bradford
BD5 8HW
and the website is at www.cedarcourthotels.co.uk/hotels/bradford.
It can be found on Google Maps, Bing Maps (MultiMap), or Open Street Map. If you are on a RISC OS machine, you can open a link in RiscOSM (which is available from Sine Nomine).
The event will once again be taking place in the Cedar Suite within the hotel. Access is via the hotel's Event Entrance, which can be found to the right-hand side of the building when looking at the front.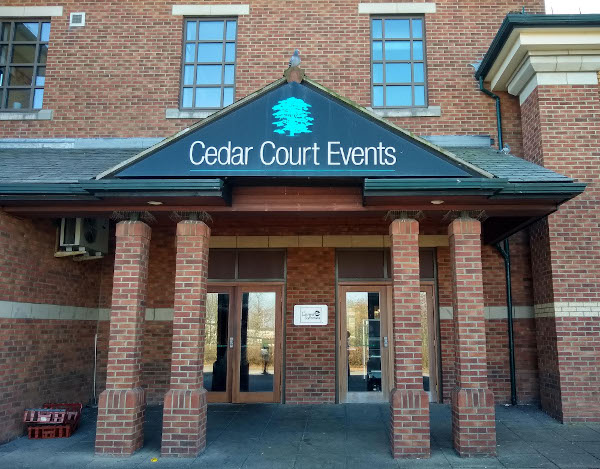 Car Parking
There is plenty of free on-site parking available in front of the venue, with an overflow car park to the rear.
Please note that the venue uses ANPR cameras for perking enforcement. In order to avoid paying a parking charge, it is necessary to register by scanning a QR code available in the venue. Hotel staff will be available to assist visitors with this, including those without access to a smartphone.
Disabled Facilities
The venue has disabled facilities, and the show venue is on the ground floor.
Catering
Light snacks and refreshments are available in the foyer area of the hotel. Demand for snacks could result in delays at peak times, so please allow plenty of time.